Profuz LAPIS Project Management is highly customizable collaborative web-based task and project management which allows you to remotely manage simple to-do lists as well as complex multi-layered projects with dependencies and workflows including many tasks and phases of development. Calendar, Gantt, Chart, Kanban, Tree Views. Projects, sub-projects, tasks, sub-tasks . Create, monitor, update, link and assign tasks and projects at every stage based on rules and user rights.
SaaS, PaaS, Lifetime with core features and optional add-ons
Suitable for small, medium and large companies and organizations from various industries
Limited only by available infrastructure resources
Bundles define the maximum number of users  allowed. No charging per user.
Your own workspace
Every LAPIS user can quickly access his own activities such as collaborations, contacts, deals, quotes, orders, documents, files, projects, tasks, uploads, etc. through My Area

Customizable workspaces help improve employees' efficiency
Group and Individual Dashboards
Personalized dashboards for different user groups 

Possibility to easily customize your individual dashboard and layout using widgets, query containers, views, searches, etc.

Dynamically adjustable working area at every step of your job
Projects & Subprojects
Multi-layer structuring of Projects and Subprojects

Create, read, update, link, and delete Projects and Subprojects

Overall progress bar

Project Overview

Built-in views: Calendar, List, Grid, Tree, Gantt, Chart

Custom views and filters (e.g. past, due, late tasks, Kanban, etc.)

Predefined parameters include Name, Description, Members, Status, Priority, Assignee, Start Date, End Date, and Progress

Custom parameters can be configured per client needs and workflows

Resource allocation overview – available resources, qualified resources, etc.

Quickly and easily change statuses and task owners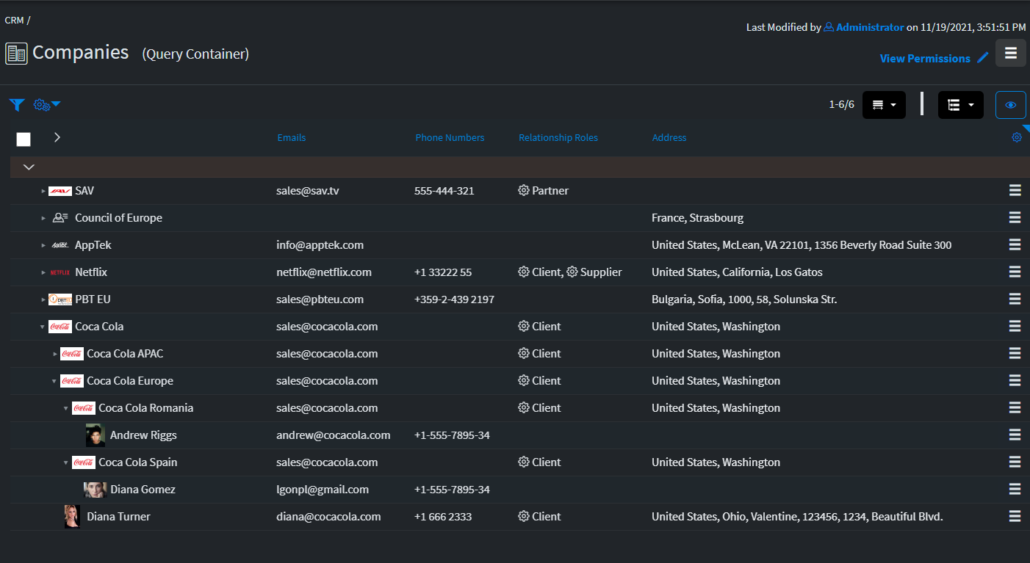 Tasks & Subtasks
Create, read, update, link, delete, and assign Tasks and Subtasks at every Project stage based on rules and user rights

Multi-layer structuring of Tasks and Subtasks including multiple and cross-project dependencies

A Task may belong to one or more Projects, and may have one or more Assignees (individual users and/or groups)

Custom user roles and rights for the whole Task or parts of the Task

Task relations to other modules of the system allowing the creation of workflows with Tasks, Orders, Deals, Files, Requests, and others

Predefined Task parameters include Name, Description, Status, Priority, Assignee, Start Date, End Date, Progress, Estimated Time

Custom Task parameters can be defined per client needs and preferences
Calendar
Hourly, daily, weekly, monthly, and quarterly Calendar views

Advanced Calendar filters such as Per Project, Per User, Per Data Provider

Project templates for automatic project creation

Single or multiple Projects view
Gantt
Manage dependencies in complex projects through Gantt
Chart
Charts can be configured to show tasks by user-defined criteria such as Priority, Assignee or any other parameter available in the Task/Project configuration
Kanban
Task and Project Status at a glance via Kanban project view

Kanban boards and lists with customizable preview criteria

Fully customizable Kanban stages per Project, Subprojects or other custom workshop

Available during project planning, project development, or in final phase
Tree
Relations
Attachments, linked content, hierarchies, and other relations
Resource Management
Resource profile creation, classification based on various parameters, planning, allocation, overlapping management and workload monitoring

Time Tracking – estimated time versus time spent

Automatic suggestion or assignment of appropriate resources based on Task properties or other data

Task, Subtask, % completion calculated in the overall task
Collaboration & Communication
Work collaboratively on Projects by assigning Tasks to one another

Edit content simultaneously

Collaborate on anything in real time

Live comments

1-1 or group chats
Notifications
Email and in-the-app notifications

Notifications for Task assignments, updates or completions

Notifications for upcoming due dates

Custom notifications possible per client-defined rules and triggers on any type of activity in the system
User Interface and Organization's Branding
Profuz LAPIS is compatible with all modern web browsers and mobile devices

Multiple Themes, User Layouts and Templates available

UI can be customized to organization branding, user group or individual user style preferences

Dynamically adjustable working area to fit any work  habits and job requests
Real-time and Simultaneous Updates
All changes and activities in the system happen in real-time. This allows live update on all activities and to-dos to all parties involved in a project or task as well as live collaboration between different stakeholders to speed up communication, decision making, risk and change management. 
Audit Logs
Activity log to track anything anyone has done within the system

Change Log to see changes within tasks and contents
Intelligent Search
Search across all connected systems (internal, external, online, offline, etc.)

Live search that automatically refreshes with new results

Faceted search by criteria/metadata instead of specific type of object

Save basic or advanced searches, and quickly access search sessions in the left side navigation bar 

Search Templates
Bookmark Anything
Bookmark and assign every element of the system to every other element accessible through LAPIS interface and user roles
Workflow Management
Workflow Management for Project-specific Tasks or between Projects and other elements of the system or connected external systems.

Multiple ways for approvals and validations of Tasks, Projects, documents or any other work
Access, Permissions, Entablements
Simplified control through complex user rights for viewing, editing or changing tasks and projects together with the related documents or files

Hierarchical inheritance of rights for connected objects and containers 

Linked objects and containers can inherit rights
Third-party Integrations
Possibility to integrate with external systems and organize workflows involving external and LAPIS internal modules and data types